In the art world, black people are being seen for their worth for the first time in a long time. There's an outpouring of wonderfully unique and talented artists consuming my Instagram feed and throughout pop culture. While an artist's look isn't necessarily important to their craft, some of the artists below are serving lewks and my list of internet crushes has risen exponentially. Here are some the most swoon-worthy:

@w3tter (Instagram)
Jerrod La Rue
Los Angeles photography, model, plant-father, La Rue is not only who I want to be
with
, but who I want to
be
.
@santanabellas (Instagram)
Santana Bellas
Los Angeles photography and stylist, Bellas' images are sometimes lonely, sometimes, joyful, but always provide a needed calm to my life.
@donbbw / @expiredprecum (Instagram)
Don
Don brings their twisted visual perspective to what can sometimes be a washed meme landscape.
@3rd_eyechakra (Instagram)
By manipulating the images of people we already love, this artist manifests her fantastical dreams for the eyes of thousands.
@actionhankbeard (Twitter)
Nuri
Using his mastery over Copic Markers, Nuri gives life to some of the most beloved cartoon characters of the past and present.  
@sparklyfawn (Twitter)
Annabelle Hayford
Hayford illustrates their life and characters with the kind of fun and saturation often denied Black people.
@brianvu (Instagram)
Brian Vu
This New York-based photographer captures people of color like the dreamy, effervescent creatures that we are.
@shwnwtz (Instagram)
Lashawnna Simon
I want to hang Simon's surrealistic masterpieces all over my tiny, two-bedroom apartment just so I can be surrounded by brown-skinned beauty.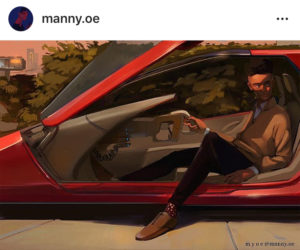 @manny.oe (Instagram)
Emmanual Edeko
This twenty-year-old artist illustrates every idea he has, whether it be bugs in dresses, botanists on an intergalactic platform, or personal Pokemon. His images are equally funny and fascinating.
@relbw (Instagram)
Arielle Bobb-Willis
Weird, colorful, and enticing, Bobb-Willis' images have a visual clarity everyone desperately needs in their life.