Students gather in protest of House Bill 327
Wednesday, students led by the Ohio Student Association (OSA), Black United Students (BUS), and the Undergraduate Student Government (USG), joined together at the K to rally against House Bill 327.
House bill 327, aims to prohibit discussions around topics deemed as "divisive." This bill plays off of the recent attacks on "Critical Race Theory" from some on the right. To push censorship, the adoption of the belief that discussions around race, sexuality, and gender could cause more division has swayed many into supporting it.
An excerpt of the bill prohibits conversations that may insinuate, "That individuals, by virtue of their race, ethnicity, color, sex, religion, or national origin bear collective guilt and are inherently responsible for actions committed in the past by other members of the same race, ethnicity, color, sex, religion, or national origin."
The bill also extends to discussions about current events. If educators decide to start a conversation about current events, they must present it in a nonpartisan manner, meaning they will have not appear biased. In addition, educators and administrators aren't encouraged to add information about divisive concepts into their curriculum. If investigated and found guilty of breaking the law, universities could face a decrease in funding and punishment for the individual in question.
Jenna Gilbreath is a member of OSA, a statewide grassroots organization that aims to help students find their political power. In addition to being a member of this grassroots organization, Gilbreath serves as the current Director of Student Involvement for USG. Gilbreath started the protest with a speech followed by chants led by other members of OSA. 
"Today, we rallied against house bill 327 as it was deemed to prohibit the teachings of divisive concepts, specifically race, sexuality, gender, and even current events. Our goal today was to pierce our public apathy on our campus because so many students are unaware of this issue and it will fundamentally change the way we receive our education if it passes," she said.
Eric Gomez, the current Director of Governmental Affairs, also spoke on behalf of the USG.
"College campuses are the epicenter of the free exchange of ideas without censorship. We must be able to listen to different ideas and make up our own minds. When the government goes against the interest of the people, it is up to us to take a stance," he said.
Deanna Baccus, the current Director of Academic Affairs for BUS, presented a poem that was written by Marissa Henley, the current Director of Political Affairs and Grievances. As a very involved student with cultural programming and Africana studies at Kent State, Baccus is worried about how this bill will affect the education and overall experience for students of color.
"I personally believe this bill will erase and whitewash the history of the United States of America. We have a whole department of Africana Studies. We are black students here, female, and everything of that sort and it is just so disrespectful that they would want to whitewash our history and silence our voices," she said. "How will the course black experience be taught if this passes? How will criminology be taught?"
Members of Kent State's faculty were also in attendance. Stephanie A. Smith, the faculty coordinator for the Media Advocacy minor, gave a powerful statement regarding how this bill could affect the education of students within The College of Communication and Information.
"This is legislation that restricts content, that restricts students' abilities to think critically for themselves, to analyze independently, and to have their stories heard, respected and understood. When you limit that kind of content for whatever standard you propose to limit it, you are actually harming their human dignity and human worth. That is something I cannot let happen to my students," she said.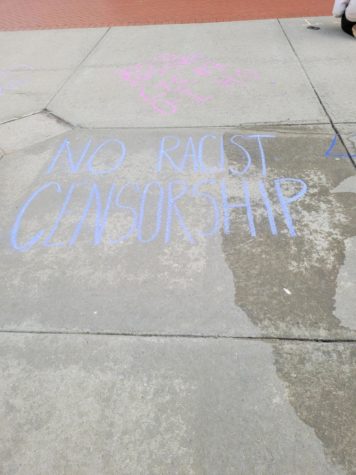 After condemning House Bill 327, USG and representatives from BUS spoke to Ohio representatives at the Ohio Statehouse. While not at the rally Wednesday, Trevor Walton, the current senator for the College of Arts and Sciences, met with one of the main sponsors of the bill, Representative Diane Grendall.
"I believe the bill will ultimately prevent the teaching of slavery, the holocaust, the trail of tears, or the progress of women's suffrage. Every marginalized group will be erased from our history books and ignore all historical conflict," said Walton.
Black United Students and the Undergraduate Student Government will continue educating students about this bill and fighting against it. If you or anyone you know would like to get more involved in on-campus advocacy, you can email Jenna Gilbreath at [email protected].
Leave a Comment
Your donation will support the student journalists of Kent State University. Your contribution will allow us to purchase equipment and cover our annual website hosting costs.