Kwanzaa and Its Importance in African Culture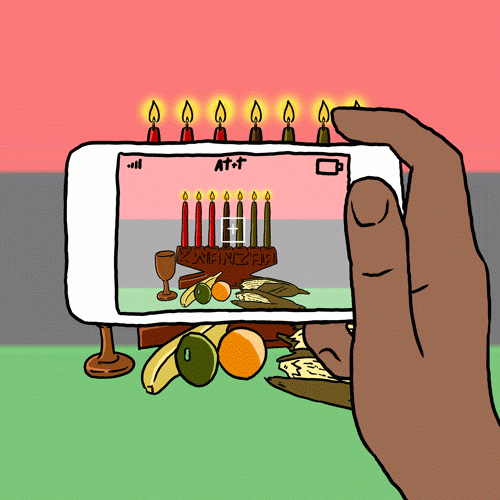 Throughout my childhood years, I never understood why the school break in December transitioned from being called Christmas to winter break, and just assumed that because my family celebrated Christmas, every other family did as well. It wasn't until I grew older that I was aware of families' different religions, beliefs and practices. One of those practices is called Kwanzaa, and as naïve as it may sound, I was wondering what the hell Kwanzaa was until I dove into the Pan-African world, which is the best world that I could dive into as a black woman. 

Growing up, I heard the word Kwanzaa quite frequently and noticed that a lot of Africans celebrated it, but assumed that since I wasn't necessarily African, I couldn't practice it. That mindset also changed the older I got, because, technically, I am African. Now, I'm aware that there has been an identity crisis among members of the black community for quite some time, but we are Africans. After researching and talking to people who celebrate Kwanzaa, I've finally understood the holiday and its meaning.
Kwanzaa is a week-long celebration created in 1966 by Dr. Mualana Karenga during the Black Nationalist movement to help the black community reconnect to its roots. Derived from the Kiswahili language, the term Kwanzaa means "first fruits of the harvest." The celebration is practiced between December 26 and January 1 by uniting in meditation of the Nguzo Saba, the seven principles of African heritage, and concludes with a feast and gift giving.  
Nguzo Saba reflects the best of African thought and practice in exchange with the world, and collectively composes the Kiswahili word, Kaawaida, which is the term for tradition and reason. The seven principles recognized on each day are as follows:  
Umoja (Unity)

to strive and maintain unity in the family, community, nation and race.  

Kujichagulia (Self-Determination

) to define, name, create and speak for ourselves.  

Ujima (Collective Work and Responsibility)

being a village, building and maintaining our community together, and making the problems of our brothers and sisters our own.  

Ujamma

(Cooperative Economics) to build and maintain our own businesses and profit from them together.  

Nia (Purpose)

to develop and build our community in order to restore our people to their natural greatness.  

Kuumba (Creativity)

to do as much in any way we can to leave our community more beautiful and beneficial than before.  

Imani (Faith

) to believe in our people, parents and leaders and the righteousness and victory of our struggle.  
Along with the Nguzo Saba, Kwanzaa symbols and decorations are just as important to convey the principles. The Mkeka is a decorative mat that holds the other symbols like crops, a kinara holding the seven candles that are lit daily, a communal cup for pouring libation (which is an offering to a God, spirit or in memory of a loved one), gifts, a poster of the principles and a Pan-African flag.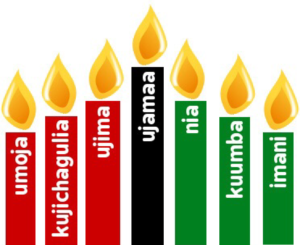 There are many different forms of Kwanzaa celebrations, and may include drumming, libations, the reading of the African Pledge and discussion of the principle of the day. Initially, Kwanzaa was created to be an alternative to Christmas, but as years passed by, the black community began to celebrate Kwanzaa in addition to Christmas to stay rooted in their African heritage.  
While learning about Kwanzaa, I noticed that I am already familiar with the principles, Imani and Nia, because they are popular names in our community. Understanding the background of our culture can help correlate different things to better understand ourselves as a people on a much deeper level.  
Mwatabu Okantah, is an assistant Professor and Poet-In-Residence in the department of Pan-African studies at Kent State University, and also serves as the Director of the Center of
Pan-African Culture. Okantah has celebrated Kwanzaa for years in Detroit, Atlanta, Chicago, at Cleveland State and different community centers, and is even friends with Dr. Karenga, the creator of Kwanzaa.
"I was actually first introduced to Kwanzaa when I first came here in the 1970s," Okantah says. "What I've always loved about Kwanzaa is that it has always been community centered. It brought out the Africans in the community…they were often surprised because so many Africans think that as African-Americans, we don't connect with Africa. So coming to Kwanzaa celebrations allowed them to see that that's really not the case."
This will be the first year I celebrate Kwanzaa in addition to Christmas, and I am excited to participate in an activity that will bring me closer to my African roots. I plan on celebrating it in my home with my immediate family and expose our origins to my younger siblings at an early age. We will also participate in libation and give honor to my late grandmother who was and still remains an inspirational person in our lives.
I hope you will consider participating in Kwanzaa this year and add it to your yearly routine to not only begin a new celebration, but get in touch with our African heritage since it is so essential in our lives.  
"I think it's important as a people," Okantah says, "that we create our own celebration, our own rituals, and that we identify our own sacred spaces and sacred places."

Leave a Comment
Your donation will support the student journalists of Kent State University. Your contribution will allow us to purchase equipment and cover our annual website hosting costs.