In her parent's basement, the walls are painted black. Everything is prepped clean. Fluorescent lights bend across the blank canvases; prepped and waiting.
Strokes of color light up a once empty canvas. Smiles are painted over brown faces as the past meets the present and the future of what's to become. The painting speaks to the experience of many Black students alike; highlighting the everlasting joy and community that surrounds them.
To Lauren McElrath, it's an opportunity to speak to her community through the lens of her paintbrush. 
"What I really wanted to do with this piece was to illustrate Black student campus life," she said. 
In many of her paintings, Lauren paints for the purpose of the viewer. She wants people to interpret their own messages and emotions from her art. While painting may offer her a type of personal release, she ultimately wants others to be able to release whatever emotions they may need to.
Art has never been something of a stranger to Lauren. Growing up with an artistic mother, you could say that she was almost destined to hold a paintbrush. 
"My entire life I've kind of been painting," she recalled.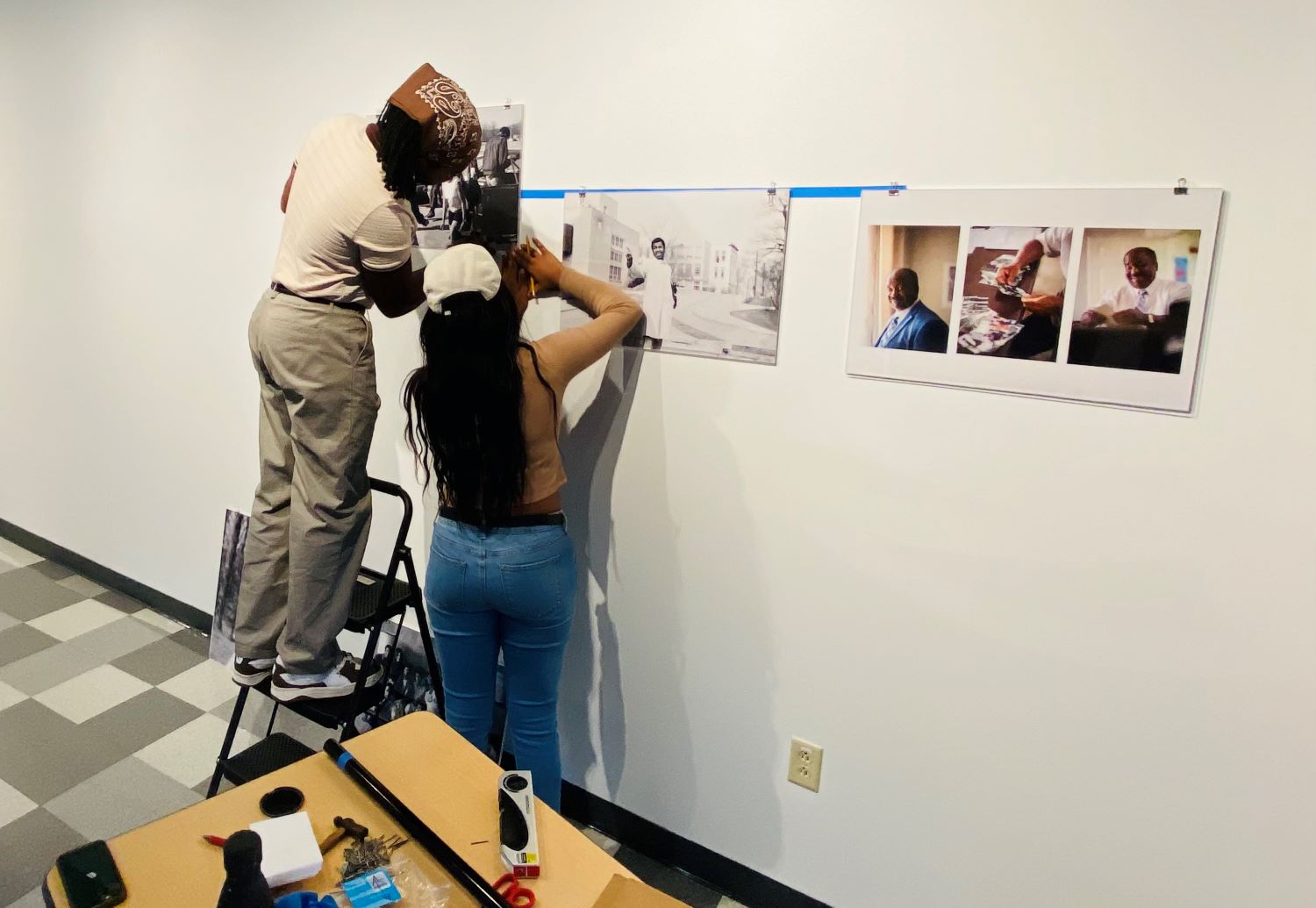 Painting came almost like second nature to Lauren, and her talent soon became recognized by her teachers and peers. It wasn't until high school, however, that Lauren began to take her talent and her craft seriously. 
"I started off kind of doing black and white silhouettes; just kind of class projects," Lauren recollected. "Then people, like teachers and students, were like 'These fire!' and I was just like, 'For real?' so, then I kind of started to just take it more seriously."
Although Lauren didn't feel compelled at first to tap into her artistic gifts, she knew that she always dreamed of becoming an artist someday.
"I remember being really little and like the first occupation I wanted to do was be an artist. And has it has changed five million times since? Absolutely, but that was just kind of a main motivation," she said. "Then sometimes it did go on the back burner, especially when I started picking up other activities and sources for entertainment and for career professions. But I just always found myself gravitating back towards it. It just always felt like a home base for me, something I could do to express myself when words wouldn't do it."
Lauren puts a piece of herself in all of her art. Her paintings contain hours of hard work and effort, and sometimes days and even weeks will pass by before they're completed. It's a grueling process that requires a lot of heart and patience. 
"I think sometimes letting go of it is hard," she admitted. "I'm a baby with my art because I spend so much time with it too. The more time you spend, the less you're willing to give it away."
The attachment behind her art isn't the only thing that Lauren struggles with from time to time. With the increasing demand for her art, she sometimes found herself stressed with looming deadlines and minute work times. All of these factors started to dwell on her and she found herself starting to become less and less passionate for her work. 
"Sometimes I just hated it. I just really hated it and it wasn't fun. It felt like a chore. And a lot of times I was forced into a different medium, a different bracket, and I was just like 'I don't do this, I don't like it.' I hate doing stuff I don't like to really do," she confessed. 
Being a college student, Lauren knew she needed to find a balance between life as an artist and life as a student. It's a process that she's found a way to manage over time, and though it may not always be perfect, it's a process that she knows works for her. 
"Speaking from this time, classes are hard. I do 19 credits a semester. It's terrible. And then on top of that I'm doing a film right now and I'm directing it, which is hard. It's a lot of people looking forward to this film, so it's a lot of pressure," she said. "So, I honestly say typically with the balance, on a normal semester, I just make time for it in the sense of like 'Okay, weekends are open. Nights are open.' I like to keep weekends and nights open because I typically don't paint until night anyway. So, I like to make time for it."
Fortunately for Lauren, not all of her work requires strict deadlines and quick turnaround rates. There are many times that she's found herself enjoying the process of her work and how her work has impacted other people.
"I think at first, it was how it touched other people. Because sometimes I do paintings for people who have lost individuals or are just really going through it and need something to look at. They'd see it and start break down crying, and then I'm like 'Oh' and now we're both crying," she reminisced.
Being an artist is equal parts sacrifice and reward. It requires discipline and vulnerability to share parts of yourself for the world to be able to see and judge. When it comes to aspiring artists, Lauren had some words of advice to give:
"If you do art, and you're serious about art, use it as something. Use it as a vessel to feel like a human… Don't be critical. Don't ever walk in critical. Don't ever compare yourself. Take it as an opportunity to know yourself, learn yourself, learn who you are and learn your voice through it. Just let it be what it is. Don't try to manipulate it because that's who you are. And as you grow, your art will grow too."