Red carpets, runway shows and dress up with his mom are all it took for John Harris to fall in love with fashion.
Inspired by the way clothing allowed celebrities — and his mother — to transform, Harris applied to Kent State's School of Fashion in 2017. Now a junior fashion student, he's worked as a style director for A Magazine and other student-led fashion productions on campus.
These roles allowed him to expand his creative vision through building photoshoot concepts, choosing models and styling looks in an intense, fast paced environment.
"I would like to become a creative director for a huge fashion house which would [allow me to] put my vision into what [the designers] already have," he says. "So I'll be determining the styles, the branding, the designs, the advertising, the merchandising — all of that."
However, when he pictures his life post-graduation, it's riddled with worry about finding a fashion organization that would allow him to represent himself and his vision unapologetically, or stop him from expanding the fashion world to people who look like him.
"Racism is just embedded in America as a whole, and because fashion is an industry that relies on poaching and relies on its environment, racism also exists at the root of the fashion industry," Harris says. "My biggest concerns are finding a place that's representative of me, and the person that I am. [I don't want] to stifle certain parts of my personality in order to fit into like a certain type of job, [or] to fit into the corporate world."
Harris' worries are fueled by the fashion industry's mixed response to the murder of George Floyd in May 2020 and the surge of Black Lives Matter protests that followed. Several fashion organizations such as Nike, Fenty Beauty and Adidas, not only released statements, but pledged to donate profit to the Black Lives Matter organization, the NAACP and other organizations in support of the movement. 
Others however, only responded after demands from Black individuals both inside and outside of the industry for a statement, or to garner recognition of some kind. 
"The brands that came out within the first two days of George Floyd being murdered ultimately were serious," Nia Allen, graduate student in Kent's School of Fashion says, "and I feel like the ones that came out weeks and weeks later were just lip service."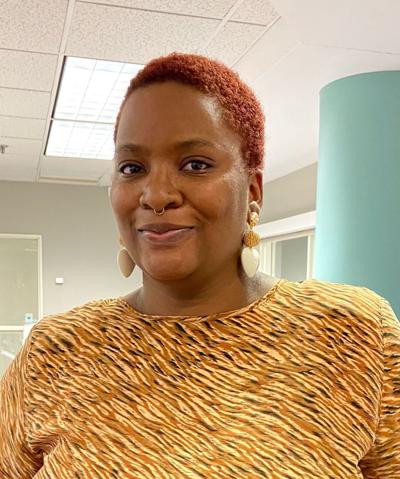 Several brands were called out for seeming less genuine in their approach to the Black Lives Matter movement over the summer.
L'Oréal, re-hired model Munroe Bergdorf after she called the company hypocritical for seeming to align with Black Lives Matter on their social media, even though they fired her in 2017 for calling out white supremacy in the company.
A 2021 Louis Vuitton collection aimed to highlight Jamaican culture in solidarity with the Black Lives Matter Movement, but misrepresented the colors of the Jamaican flag throughout the entire collection.
"Are you really committed to Black Lives Matter?" Allen says. "It's extremely important that designers and fashion houses realize that Black Lives Matter is not just about us not being killed by police. It's about us having adequate housing, adequate healthcare, adequate jobs, and they play a role in that."
Racism in the fashion industry has been an issue since its conception, with Black bodies being viewed as less marketable, and Black people being excluded from many brands' audiences.
Allen began her fashion career at Clark Atlanta, a HBCU in Atlanta, Georgia. She began her luxury fashion journey as a sales associate at Nordstrom, but she quickly realized that she was not indicated of the type of person luxury fashion aimed to represent.
"I wanted to work in luxury fashion, … but luxury fashion is extremely hard to get into, because the look that you see for luxury fashion is not us [Black people]," Allen says. "It was a lot harder for me to get a job in luxury retail because I didn't have the 'look' and I still don't have that high fashion look. I have the academic background, I have the career background, but there are still some places I couldn't walk in and be hired."
In January of 2019, the Council of Fashion Designers of America (CFDA) released a report acknowledging the lack of diversity in the fashion industry at large, along with the "unconscious bias" many brand owners have when it comes to hiring People of Color.
The report identified an insider group in the fashion industry, who were in control and decided what they wanted to show their audiences, and an outsider group often left to conform to the standards of the insiders.
"Outsider minority groups have to fit into the norms set by the insiders, and are more aware of themselves as a group," the report states. "They can find it harder to assert their positions, which means their perspectives, which are often central to creativity and innovation, can be lost. Unconscious biases maintain and reinforce these dynamics."
This bias leads many Black people and other people of color to "whitening" their resumes, a process similar to code-switching in which people of color try to hide their race on their applications in order to make it to the interview process, or trying to find any common ground with potential employers to make them stand out.
Allen applied for a position at Gucci, but never heard back. Nine months later, she applied again. This time, she heard back and made it to an interview which led to her getting the position, but Allen maintains that her manager took a chance on her because they happened to have a shared common experience of working for Nordstrom.
"There has to be something that bridges you guys," she says, "because if not, unfortunately you're sitting there trying to find that common place so you can both feel comfortable with one another."
Allen has since worked as a celebrity stylists and  fashion blogger, along with working as a graduate assistant and implementing her own projects at Kent's School of Fashion, such as the Black History Fashion Book Bank, and a Black history movie night.
Seeing as racism isn't a new issue in the fashion industry, it's puzzling to see how lead designers failed to come up with solid solutions prior to 2020. That's what makes this year so different: Black people are waiting for actions that dismantle racism in hiring and advertising practices, rather than public statements acknowledging the issue.
"I think [the fashion industry has] to be like, very assertive in the way that they address these concerns," Harris says. "It's not enough to just say, 'Oh, we hear you and we see you,' or whatever the case. They have to actually have procedures … in place to kind of counteract the systemic discrimination that exists in his country, …. [and] it has to be very specific and very intentional."
The systemic issues can go back to early childhood development, and how Black youth perceives the brands that are made "for them." If Black people are not represented in advertisements of certain brands, it can be easy to feel excluded from the fashion industry as a whole.
Getting started in the industry typically leads many to turn to unpaid internships, which isn't always a viable option for some who need to work full-time paid positions in order to live. Higher education, on the other hand, can be an expensive option for those interested, especially those pursuing fashion design, which factors in cost of materials, fabrics and other supplies.
"If we're thinking about statistics, a lot of Black people cannot afford that, unless you're taking out loans," graduate student in Kent's School of Fashion, Julian Randall says. "If the field you're going into isn't one that's going to help you pay off those loans quickly then you're just drowning yourself in debt. That definitely plays a part in fashion education for students."
In the workplace, Black voices may be overlooked or ignored, even after being hired. In instances like these, it's up to white employers and bosses to take an extra step forward.
"Ultimately, if we're talking about the struggles of Black people in fashion, within predominantly white spaces," Randall says, "the people with the most power, which are white people who have these editor-in-chief positions, and c-suite positions, they're going to have to be empathetic … really hear what we're saying and make those strategic decisions to make sure that we're represented at these organizations."
A 2019 graduate from Texas Tech University, Randall has worked as a fashion writer for Kazi Magazine, a venture associate for LaunchNET, and a staff writer for several luxury boutiques. However, his end goal is to be an editor-in-chief of his own luxury magazine geared toward Black men.
"It has been researched and documented that Black men are excluded from luxury advertisements," Randall says. "You don't really see us that much, unless we're tokenized and using the same person over and over again. We have been excluded from the marketing collateral of luxury organizations."
Though he's noticed racism and discrimination in his own experience, including while working as a sales associate at Nordstrom, and noticing non-Black patrons gravitating toward non-Black sales representatives, Randall doesn't focus on it. Instead, he aims to focus on achieving his goals and finding ways to overcome obstacles.
"There are systems in place that by the very nature of them create certain hurdles for Black people that can make it really hard to achieve those goals, whether that be socioeconomic, political, any of those things," Randall says. "Even once you're in the door it can still be a challenge to stay there, but it's not necessarily something that I dwell on because I want to do it, so I have to make it happen one way or another. I just look for ways to surmount those obstacles and work within those systems the best I can."
Now might be the best time for Black people to apply for any job we want, seeing as many fashion brands and organizations are afraid of doing the wrong thing, or not being diverse enough, Randall says.
But the opportunity to work at a specific brand that's seeking Black people, may not be enough. It can still be hard to find specific brands and organizations that are looking for outspoken Black people to become valuable members of the team, rather than simply trying to meet the diversity quota.
"You also have to consider what organizations you're looking at," Randall says. "It might be better for me to work at Pyre Moss rather than Brooks Brothers. You have to do your research. If a company has not hired a certain number of Black people in so many years, … it's probably not somewhere you want to work."
However, while it's important for Black people to demand a seat at the table in white spaces, it's equally as important to create safe spaces for Black people to exist and speak freely.
"I want to empower people to … create your own thing," Randall says. "It doesn't even have to be some huge idea initially, but you never know what it could grow into. Once you tap into your own creativity, and have an entrepreneurial spirit about things and being positive, that then gives you the opportunity to give more people who look like you the opportunity to be in the industry."
Allen shares a similar thinking.
"You have to bloom where you're planted," she says. "You can't just say 'I'm going to wait until I get to New York.' If you're a creative person you have to get your ideas out now. It's extremely important for us to create what we want to see."
While she feels discouraged knowing the barriers in place for her and others like her, that's exactly what drives her to knock down and counteract the systemic issues in place.
In 2017, Allen founded The Fashion Weekend, a Cleveland based organization aimed to put those aspiring to enter the industry with Black professionals in the industry through panels, discussions and brunches.
"It's a source of motivation," Allen says. "There aren't a lot of events [in Cleveland] that cater to African Americans interested in fashion. … In some places you can feel stifled, especially in the Midwest, which is not a fashion place. I can see the value in [Cleveland] and how The Fashion Weekend will help people push forward."
Allen isn't alone in her actions. Many other Black members of the fashion industry developed their own movements and organizations to combat racism in the industry.
Writer Kibwe Chase-Marshall, editor Jason Campbell and creative director Henrietta Gallina, founded The Kelly Initiative and wrote a letter to the CFDA demanding the organization "conduct(s) an industry-wide census to collect and publicize the racial demographics of its member organizations; that those companies partner with headhunting firms to recruit Black talent; and that they participate in third-party audits to ensure 'accountability and transparency.'"
The letter was signed by over 250 Black designers and brand owners. Other members of the industry took it a step further, deciding to create their own organizations to aid Black designers and brands specifically. 
Teen Vogue Editor-in-Chief Lindsay Peoples Wagner and public relations consultant Sandrine Charles founded the Black in Fashion Council with the goal of representing and securing "the advancement of Black individuals in the fashion and beauty industry, … [and] envision[ing] workforces where Black people are represented and amplified at every level, holding jobs … and can … create diverse spaces that directly reflect what the world actually looks like at large," according to the mission statement.
Aurora James, designer and founder of Brother Vellies, founded the Fifteen Percent Pledge, an organization that aims to recruit and retailers to donate 15 percent of their shelf space to Black-owned brands.
"The pledge started as an emotional response that needed a quantitative fix," James told the New York Times. "I was seeing all of the messages that people were sharing in my email and on my grid about these retailers saying that they stand with us. So while my Black woman was really in a space of despair, my Black business owner self was like, 'OK, well, what is the metric that I can associate to the release of this grief?'"
In 2019, Black buying power reached $1.4 trillion dollars. By allocating that money back to Black-owned businesses, or away from anti-Black business, Black people could really create a change in the industry overall.
"It's extremely important that we don't patronize businesses that don't support us … but I also feel like we should hold them accountable," Allen says. "At the end of the day, we matter, and our buying power is tremendous."
As of right now, the outlook on dismantling racism in the fashion industry is still unclear. Only time will tell if these organizations have the capacity to make a difference, and if the fashion brands and designers truly felt inspired to create change.
"Everything that I do I make sure my work specifically highlights something or shows an achievement that I've done," Allen says. "My research has to be about me, it has to be about my race, because nobody else is going to research it, and for me, that's important because the next girl or boy who comes after me won't have to do all of that research."
In the meantime, Black people in and entering the industry should make use of the resources that are available to help them succeed, while remembering to leave the door open to those who will follow.
"You definitely have people like Andre Leon Talley, like Virgil Abloh who have made great strides as Black people in fashion, but didn't necessarily have an interest in keeping those doors open for people coming behind," Harris says. "Knowing how being Black … can impact your experience in the industry, it's very important to keep those doors open and to make sure that you're creating spaces and platforms for people to follow behind you to even go further into opening more doors for generations after them."