Sen. Bernie Sanders Persuades Millennials To Vote Democratic
In hopes to encourage college students to vote democratic in this year's election, Vermont Sen. Bernie Sanders spoke at Kent State University on Saturday, Sept. 17.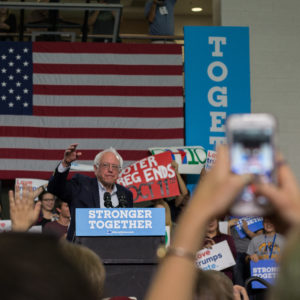 "What a democracy is about is respecting different people's point of view," Sanders said. "And going into your own heart like, 'what are the issues effecting my life, my family's life, and who is going to be best to address these issues?'''
Although Sanders lost the democratic nomination to Hillary Clinton in the primaries, the Senator is still actively campaigning for democratic votes, specifically the votes from millennials.
"I feel like Bernie is more for America as a whole where as people like Donald Trump want to see America split up, in ways that not everybody wants to," said Kent State sophomore and audience member Zachary Ray. "I feel like Bernie is more for love and wants everyone to be unified."
Hana Barkowitz, Kent State junior public relations major, emphasized the importance of the millennial vote in her speech at the rally.
"This is our future, and we must not forget the importance of that. We're young, we're powerful and we're smart," Barkowitz said. "And millennials have a bad reputation, but if you ask me, as a millennial, we are energetic and we are fed up."
From the beginning of his campaign, Sanders gained immense popularity within the population of  generation Y. One way he did this was by proposing free tuition to college students. Isaiah Martin touched on this during her speech preceding the senator.
"I'm graduating soon, and when that time comes I will have over $40,000 in debt to my name," Martin said. "For millions of Americans, especially in our generation, dealing with these massive amounts of student debt has simply become a way of life."
This popularity within young voters would have made an incredible impact, if the young people actually turned out to vote, especially since millennials now surpass Baby Boomers as the largest generation.
"I did not vote in the primaries. It was out of pure laziness; I didn't register on time and it was a hassle because my parents moved," said Kent State junior and Sanders supporter Holly Disch. "I wish that I took the steps to vote in the primaries, but I will be voting in November."
According to The Pew Research Center, although millennials make up roughly 31 percent of the voting eligible population, only 46 percent of those millennials actually said they voted.
In addition to this disappointing voter turnout, many argue that Sanders lost the black vote. Historically, black voters have always had a unique impact to American politics. On one hand, some argue that as a black person, they feel no need to vote for a system that oppresses them. On the other hand, some argue that since black people fought so hard for the right to vote, it is the duty of black people to actually show up to the polls.
"I think it's apart of showing your voice," Ray said "It's having a say in America where we as black people don't have much of a say in the first place."
Regardless of winning the black vote or not, it was clear on Saturday that Bernie is aware of the intense racial tension in America. Not only is he aware, he has a positive outlook on the future of the country.
Sen. Bernie Sanders speaking at Kent State University, Saturday, Sept. 17. Photo by Jermaine Jackson.


"There have been horrific levels of discrimination, bigotry and racism. I don't have to tell anybody here, you are smart people, about what the settlers of this country did to the Native Americans," Sanders said. "We all know that racism still exits, sexism still exists, homophobia still exists, we all know that. But we also know that as a nation we have come a long way in combat against discrimination. If there's anything that we should be proud of, living here in 2016, is that over those years, there have always been people standing up," said Sanders.
Despite Sanders' loss in the primaries, Saturday showed that it is clear that he still cares about the outcome of this election. Both young voters and black voters can rally behind Sanders' passion to create a better America. Together, Sanders and his supporters can  persuade others, especially those in the millennial age, to be heard and stand with Hillary Clinton to create a stronger Democratic Party.

Leave a Comment
Your donation will support the student journalists of Kent State University. Your contribution will allow us to purchase equipment and cover our annual website hosting costs.