David Robinson, son of legacy Major League Baseball player, Jackie Robinson, attended Kent State University to promote Sweet Unity Farms, his coffee business that promotes self-help, personal development and organization on the African continent.


Accidentally running into David Robinson a day before our interview, I had the pleasure of formally introducing myself and sampling a cup of Sweet Unity Farms Vanilla Hazelnut coffee. I'm not a big coffee drinker, but I was taken aback by the warm, delicious substance that boosted my energy before my normal crash time. This will definitely not be the last.
Based in Tanzania, Sweet Unity Farms produces 100 percent Arabica coffee that is exclusively grown by small scale, family owned farms. It aims to enhance economic growth, self-help and personal development of individuals. Free of exploitation, hidden agendas and foreign colonization, Sweet Unity Farms also utilizes the natural resources of Africa and recycles profits back to the producer community.
"Arriving as a young black boy on a continent with the vast majority of a black population in leadership, gave me a vision and a psychological understanding of the broadness of the world, the diversity of the world and the existence of a wealthy, beautiful continent occupied and governed by black people," Robinson said, describing his first visit to Africa as a 15-year-old boy.
Four years later at 19, Robinson revisited Africa and was inspired to begin his journey of using agriculture as a way to sustain economic development.
"The concept was reiterated that there was wealth and there is challenge that needs to be developed on the African continent, the continent that God gave black people."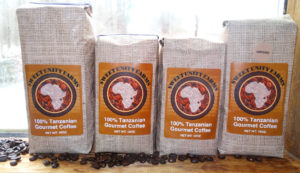 Given that coffee was one of the largest foreign exchange items at the time and America was the largest consumer of coffee, Robinson took the opportunity of bringing the two places he calls home together. He created a beneficial business that mixed natural resources and market, while producing savory coffee and giving back to the African community. He wanted to increase black people's engagement in the activity of development, which he has done.
"This coffee not only allows you to get your great morning jolt and through the day's smoothness, but you're actively supporting equitable, global trade," Robinson said. "You're actually supporting community development in rural Tanzania. Sweet Unity Farms also gives you an option to exercise your political, economic and global feelings through your coffee purchase."
With the help of Kent State alumnus, Marcus Butler, Kent State is the first university that is a distributor of his coffee, which Robinson described as an organic growth and coincidence.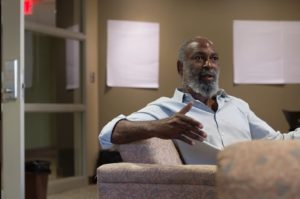 Since he was part of the anti-war movement in 1969 and 1970 in California, he's proud of the activism Kent State showed on May 4, 1970, as well as now, which made him thrilled to sale his coffee here. Robinson also believes the relationship between Sweet Unity Farms and Kent State University is important because similar interests are shared among pan-African studies. Being housed in the Oscar Ritchie building, the center of pan-African studies, can allow students and faculty to actively support the concepts of pan-Africanism and pan-African development.
"The end objective of pan-Africanism is not just to be a super strong race of African people," Robinson said, "but to join in with the other racial and religious dynamics to pull off the sustainable world that we've been giving the potential for."
Although Sweet Unity Farms is successful, it has still faced complications, much like any other business. Sixteen hours away from Robinson's home in Dar es Salaam is Bara Village, an underdeveloped area with no running water or electricity. There are poor educational and medical facilities and the roads are almost impassible during the rainy season. This however, is in no fact a hindrance to Sweet Unity Farms.
As a company, it has created a water catchment system that stores rain water and began to distribute solar energy panels in 1996. Compared to no transportation 1989, there are now three 5-ton trucks and many motorcycles.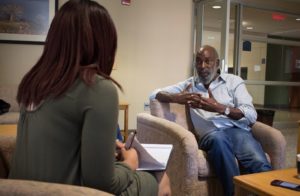 Robinson has also developed Bara Village Multimedia, Education, Training and Entertainment Center. There, over 2,000 students are taught, potential farmers are trained, women and youth groups meet and feature films and cartoon are shown on the weekends. As black people, we have the power to make a way with what we have, and Robinson shows no difference.
"We've certainly seen hardship in Africa. It has not been easy in creating the farm and the crops, but in understanding the objectives and knowing the history and even being a part of the family of great individuals like Jackie Robinson and Rachel Robinson and others in the civil rights movement, we've had examples of people of strength, and we've had examples of people of missions and people of purpose," Robinson said. "Knowing those missions and purposes gives you strength to carry out. If you do not have a mission, if you do not have a purpose, if you do not know the historical examples, you're like a leaf falling off of a tree blowing in the wind; you can't sustain anything."
When asked about his father's handed down life lessons, Robinson says that using teamwork to accomplish a common goal is the most important.
"You've got an individual who has drawn on and pulled together all of their strength and tolerance and understanding in order to achieve an objective. Part of that objective was to achieve within the team," he said. "There was struggle in trying to make that happen, but understanding a greater purpose was part of what gave Jackie Robinson the ability to sustain himself."
With Sweet Unity Farms, David Robinson aims to be an example of teamwork, overcoming struggle and using resources in order to teach self-sustainability for generations to come. We as a people must look out for one another, and cultivating the African continent to recycle financial stability and pride within the community is the first step.