Sierra Allen, MJ Eckhouse
During Kent State University's Homecoming parade last Saturday, a fraternity chanted a discriminatory phrase aimed at SALSA, a group designated for Spanish and Latino students. Confronting the issue, SALSA united to support one another and spread awareness and positivity  as they painted the campus rock, which is free for student expression.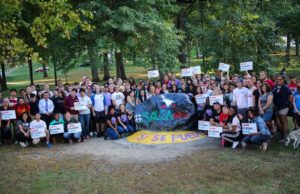 According to SALSA's Facebook page, the fraternity chanted "build that wall" as they marched by, which made the group feel perplexed and unwanted.
Given the current political climate that Republican presidential candidate Donald Trump has set, "build that wall" has become a phrase that announces political party affiliation and discriminates against others.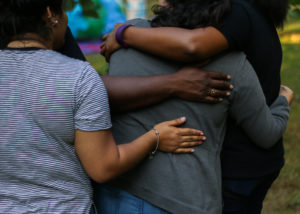 After his repeated announced plans to build a wall at the U.S.' southern border, some citizens have gone to extreme measures to individually express their support of Trump's decision and "build that wall" has unfortunately become a widespread slogan.
Rachel Mason, SALSA's president said she did not hear the chanting and was unaware the situation occurred until Victor Benton, a group member gathered everyone to ask if anyone else heard it as well.
"I thought to myself that I couldn't have heard it. There's no way I heard it, no one here's like that," Benton said. However, after confirmation from other group members, Benton was correct and did indeed hear "build that wall" as it was being chanted. "In my five years here, we've never experienced that as an organization. We were confused, we were angry, we were sad."


'La xenofobia y el racismo no tienen cabida en Kent State,' which means, 'xenophobia and racism do not belong at Kent State.' Photo by Jermaine Jackson.
Through conversations with friends and group members, Mason learned that "several members did not want to turn around to see who it was because they were afraid and didn't have time to process what was happening."
Because of the current political conditions, Mason braced herself for "a certain type of person to be less pleased," and thought the most controversial part of the parade would've been the very beginning. However, since the beginning of the parade went by smoothly, she assumed the worst was over, but was mistaken.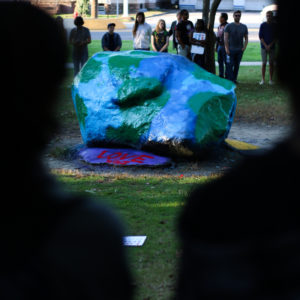 "To hear them recount 'this is my experience, this is what happened to me,' I immediately felt very small," Mason said. "I felt like because I was president, I needed to protect them. I felt like I let my guard down a little because in my head, the worst part was over."
Identifying as a white female, Mason's passion for the Latino culture was influenced after attending the United States Hispanic Leadership Institute. She majors in psychology and Spanish literature culture and translation, and works in a research lab studying adolescent Latino mothers. She "strives to make sure the Latino voice is heard," and tries her best to not be the sole focus of the group since she does not directly face the same issues her friends and group members endure.


Putting emotion aside, she immediately contacted President Beverly Warren via Twitter, who directed her towards someone who would best fit the group's needs. She felt that President Beverly Warren's response was prompt and professional and the administration supported SALSA as they discussed solutions to not only solve this particular issue, but prevent others as well.
Upon hearing the chanting, Sarón Rivera, a SALSA group member instantly thought of her parents and the hard work they've achieved after moving to the U.S.
"For them to do that, it hurt me and hurt everything my parents have done, so all I could do at the time was raise my flag higher and be proud of who I am because my parents taught me to never be ashamed of who I was and where I come from," Rivera said.
According to Mason, others in the group felt that it was "a bit of a slap in the face" to feel so comfortable on campus and then hear prejudiced chants directed towards them.
"I think that safe bubble that they had going on was popped and I'm hoping that we can work to repair that," she said.
In an act to restore the safe space idea, Liza Henriquez, SALSA's vice president arranged a peaceful demonstration. Supporters held hands while standing in a unity circle to create a visual representation of a wall of unity, diversity and inclusion.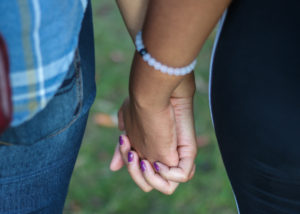 "For this demonstration, I hope that people can take away that other people come in a wide variety among the rainbow and they can still view them as a human being regardless of differences," Mason said.
Throughout this series of events, members of SALSA said that the support they've received from other student groups and administration has been overwhelming. There group has even grown closer, which shows that even in rough situations, there are still positive outcomes.
SALSA's meetings are held every second and fourth Thursdays of the month, at 5:30 p.m. in the Student Multicultural Center. All are welcome.